Single-Shaft Feed Mixer
Capacity: 150kg/batch, 250kg/batch, 500kg/batch, 1000kg/batch, 2000kg/batch, 3000kg/batch
Type:Medium capacity crusher for feed plant
Applicable animal types: poultry/chicken, cattle, sheep, fish, etc. livestock and animal food
Main parts: blades, main shaft, motor, etc.

Send E-mail
Chat Online
Single-Shaft Feed Mixer is one of animal feed mixer, also called single-shaft ribbon mixer, which is a well-performed feed mixer for fish, poultry and other livestock feed production plants. The feed mixer can be designed with crusher for home use or small feed pellet factory.
Fish feed mixer - application
Fish Feed mixer is a well-working feed mixer for fish feed production line and other livestock feed production plants,horizontal ribbon mixer for you to mix poultry and livestock feed, as well as fish feed, which can mix the raw materials evenly. Feed mixing machine is widely used in animal feed plant and fish feed pellet plant.
Multi-use: it can be used for feed, food additives, binder, silicone rubber, pigment, printing ink, paraffin, resin, vanishing cream, ointment, detergent, etc; and also can be used for mixing viscous fluid and thick, pasty and granular materials.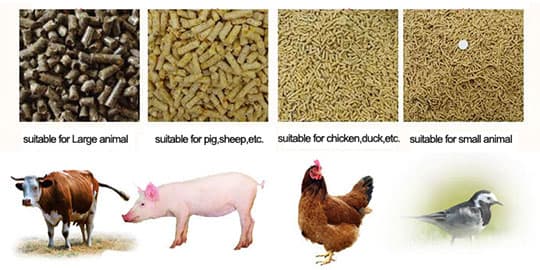 Operation precautions of single-shaft feed mixer
1.Examine the machine before starting operation. Be assure there is no foreign object in the mixer, and the inner wall is dry and clean. Check the raw materials for making fish feed, and assure the materials are totally dry. Put the materials into the machine according to the capacity of the mixer. Then tighten the lid of the inlet.
2. After starting this feed ribbon blender, check its running direction, and the contrarotation is not allowed.
3.After 15 days for the first operation, discharge the lubricant and clean the oil tank; then change the lube in the speed reducer every 3 months, and lubricate the grease on the bearing every 2 months, which is adjustable according to the working condition.
4.Light repair of the feed mixing machine is needed after 1800-hour running to check the lubrication points and replace the quick-wear parts; heavy repair is needed after 4000-hour running to disassemble to check and clean all the components, replace quick-wear parts, and adjust standard units.
Single-Shaft Feed Mixer Technical data
| | | | | |
| --- | --- | --- | --- | --- |
| Model | Power | Voltage | Capacity | Mixing time(s) |
| SLHY0.3 | 1.5kw | 380V 50HZ | 150 kg/batch | 180-240 |
| SLHY0.5 | 5.5 kw | 380V 50HZ | 250 kg/batch | 180-240 |
| SLHY1.0 | 7.5 kw | 380V 50HZ | 500 kg/batch | 180-240 |
| SLHY2.0 | 15 kw | 380V 50HZ | 1000 kg/batch | 180-240 |
| SLHY2.5 | 18.5 kw | 380V 50HZ | 1000 kg/batch | 180-240 |
| SLHY5 | 30 kw | 380V 50HZ | 2000 kg/batch | 180-240 |
| SLHY7.5 | 45 kw | 380V 50HZ | 3000 kg/batch | 180-240 |
Related Products
Fish feed pellet production line and parts of all of systems