Large Capacity Double Shaft Animal Feed Mixer
Model Effective volume(m³): 0.5 -6
Capacity: 250kg/batch, 500kg/batch, 1000kg/batch, 2000kg/batch, 3000kg/batch
TECHNOLOGY: SKF Bearing, S235JR/316L stainless steel, Double shaft, single ribbon with heavy-duty construction with large capacity
Average mixing time for standard feed mill product of 90 seconds
Application: mixing dry powders and granulates irrespective of their bulk density or shape. Liquids can be added during the mixing process

Send E-mail
Chat Online
Features Of Double Shaft-Paddle Mixer
1.Machine body with "w" horizontal shell big mixing chamber, double-shaft multi-paddle rotor, top spraying system(pipe and nozzle). It is applicable for mixing of various light and heavy products, and improving the liquid atomizing and mixing effect and preventing from lumping.
2.Specially-designed discharger has wide door-opening and big angle for quick discharging with less left over. Sealing device has excellent tightness, ensuring no products leakage.
3.High mixing speed and homogeneity. Materials are mixed under the state of weightlessness and homogeneity is not affected by factors such as fineness, density and fill-up coefficient.
4.It is widely used for mixing of powder, granular, flake, block, irregular and sticky materials in the industries of feed, cereal, food, chemicals, medicine, pesticide, etc.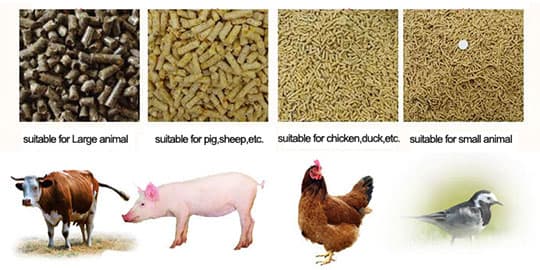 Feed Crusher Working principle
1. The raw material enters into crushing chamber through feed hopper and is held there until it is reduced to the size of the openings in the screen , and there are flailing hammers spinning very fast and close to a perforated screen.
2. Under the drive of airflow, the broken material is moving along the rotor outer-edge and has a continuous collision and friction against the hammer, toothed plate and sieve, then the broken material is crushed. Once the particle size below the diameter of the screen holes, feed powder will pass through the screen.
Animal feed mixer machine Technical specifications
| | | | | | | |
| --- | --- | --- | --- | --- | --- | --- |
| Model | Model Effective volume(m³) | Capacity(kg/batch) | Mixing time(s) | Mixing unlformlty(cv%) | Power(kw) | Voltage |
| SLHS0.5 | 0.5 | 250 | 30-120 | 5 | 5.5 | 380V 50HZ |
| SLHSJ1 | 1 | 500 | 0-120 | 5 | 11 | 380V 50HZ |
| SLHSJ2 | 2 | 1000 | 30-120 | 5 | 18.5 | 380V 50HZ |
| SLHSJ4 | 4 | 1500 | 30-120 | 5 | 30 | 380V 50HZ |
| SLHSJ6 | 6 | 2000 | 30-120 | 5 | 45 | 380V 50HZ |
Related Products
Fish feed pellet production line and parts of all of systems